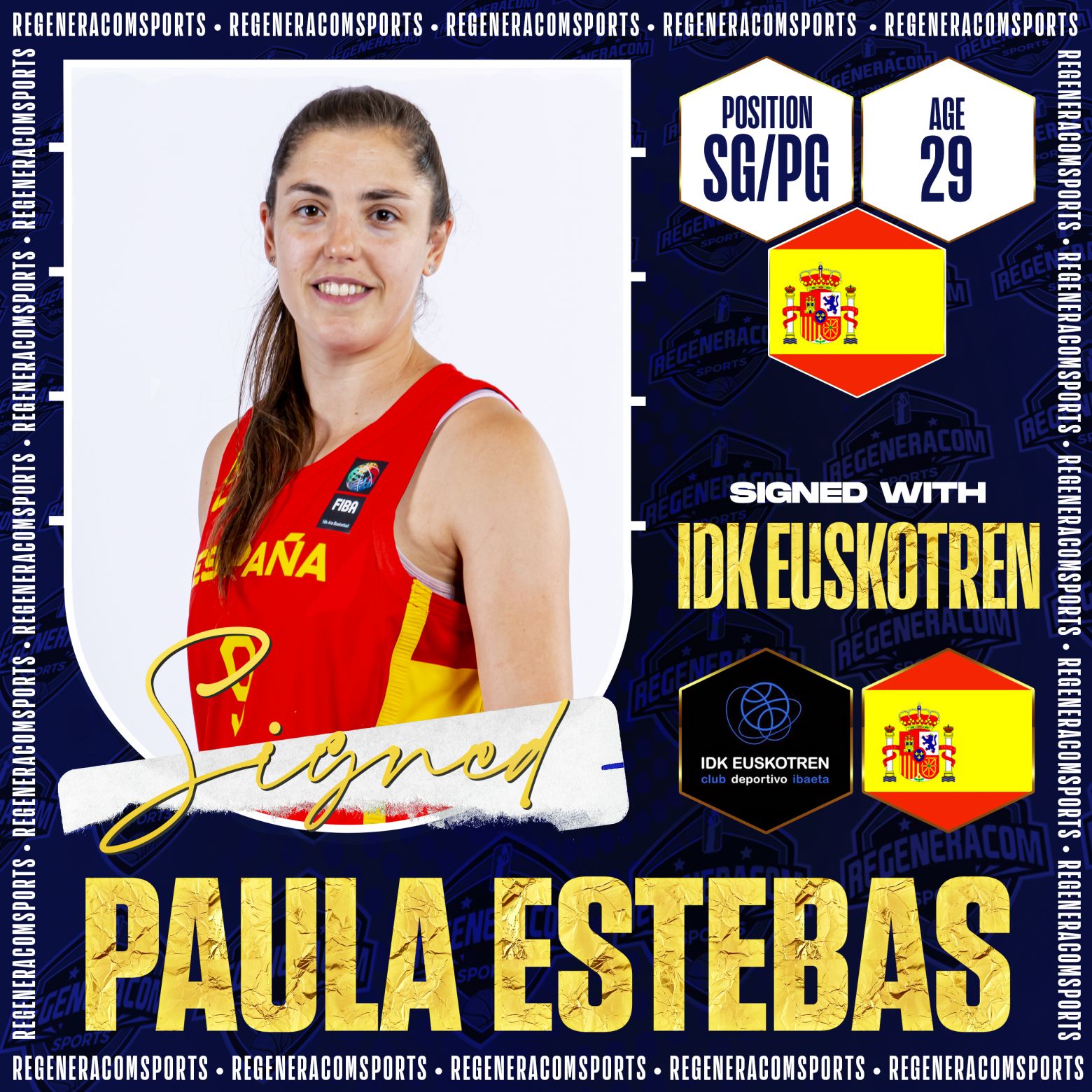 PAULA ESTEBAS has signed with IDK Euskotren until the end of the 2022/23 season
16 JAN 2023
Paula Estebas is a 1.75m spanish combo guard born in 1993 who has wide experience in Spanish top division.

Paula´s career has a strong link with the city of Logroño and she shone already in her first year as a senior player averaging 11.1 points, 6.2 rebounds, 2.5 steals and +11.8 efficiency per game with Las Gaunas during the 2011/12 season.

Later on, Paula Estebas averaged 10.9 points and 3.6 rebounds per game with Fundación Promete in the 2012/13 season and in the summer of 2013 she became U20 European Champion while having a key role in the final against Italy with 10 points, 8 rebounds and 3 assists.

Paula remained playing for Fundación Promete during the 2013/14 season and she averaged 12 points, 3.7 rebounds and 2 assists per game.

Already in the 2014/15 season, Paula Estebas had her debut in Spanish top division and she averaged 8.8 points and 3.1 rebounds with Campus Promete.

Once that she became a familar face in Spanish top division, Paula Estebas stayed in the competition and playing for Campus Promete she averaged 8.2 points and 2.8 assists in 24 minutes per game during the 2015/16 season, 5.7 points and 3.3 assists in 22 minutes per game during the 2016/17 season and 6 points, 3 rebounds and 2.7 assists during the 2017/18 season.

After playing Spanish top division with Araski in the 2018/19 season, Paula Estebas returned to Campus Promete and she has been one of the best players in Spanish league with 10.3 points per game in the 2020/21 season and 9.9 points per game in the 2021/22 season.

In the 2022/23 season, Paula Estebas signed with Estudiantes.
---
---