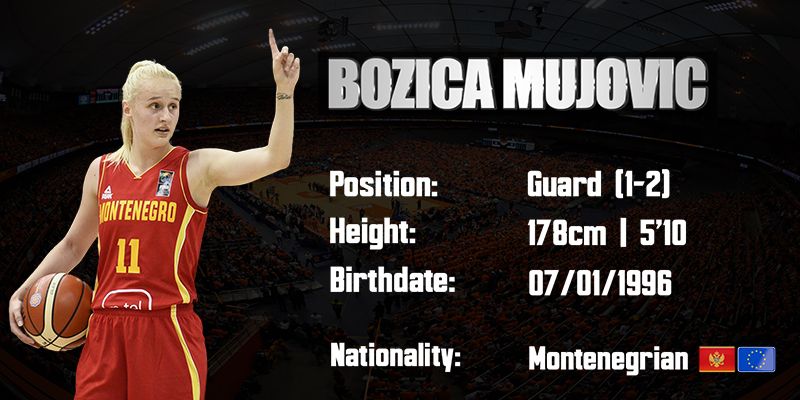 AL-QÁZERES (SPAIN-D1)AL-QÁZERES (SPAIN-D1)
Background/Bio
Most of Bozica Mujovic´s career has been linked to Buducnost, after arriving to the club in december 2011 and improving year after year until the 2015/16 season in which she averaged 9.1 points, 4 rebounds, 4.6 assists and 2.4 steals per game in a team that won the Adriatic League with Bozica in the First Team and also in the Defensive First Team of the competition.
In the 2016 summer, Bozica Mujovic played the U20B European Championship and she averaged 11.7 points, 5.2 rebounds and 5.3 assists per game, being number one in assists. Previously, Bozica had already competed with Montenegro, averaging 13.4 points, 6.4 rebounds, 3.4 assists and 4.6 steals in the U18B European Championship played in 2014 and 11.9 points, 7 rebounds, 4 assists and 3.1 steals in the U20B European Championship played in 2015.
Bozica Mujovic stayed in Buducnost during the 2016/17 season and she averaged 14.3 points, 4.8 rebounds, 5 assists and 2.6 steals per game in the Adriatic League.
In the 2017 summer, Bozica played the Senior European Championship and she averaged 4.7 points and 4.3 assists per game, after having averaged 7.5 points, 2.7 rebounds and 2.2 assists in 17 minutes per game in the Qualifying Round.
Bozica Mujovic played with Buducnost during the 2017/18 season and won the Adriatic and was the MVP after averaging 12.5 points, 4.3 rebounds and 5.3 assists per game. In addition, Bozica won also the Montegrin League and Cup.
In the 2018/19 season, Bozica Mujovic signed in Poland with Wisla Krakow and she averaged 7.3 points, 3 rebounds and 3.6 assists in 19 minutes per game in the Eurocup and 3.7 points, 1.9 rebounds and 3.3 assists in 15 minutes per game in Polish League.
Bozica Mujovic signed in Spain with Al-Qázeres in the 2019/20 season.
Scouting Report
Bozica Mujovic is a 1.78m international Montenegrin combo guard born in 1996 who is among the best young european guards in her position due to her athleticism, talent and court vision.
Bozica Mujovic has already won 8 Montenegrian Leagues and 2 Adriatic Leagues with Buducnost.
Career Stats
Season
Team
League
PPG
RPG
APG
MIN
2FGP
3FGP
FT
ST
BL
2018/19
WISLA KRAKOW
EUROCUP
7.3
3.0
3.6
19
45

%

27

%

56

%

1.4
0.2
2018/19
WISLA KRAKOW
POLAND-D1
3.7
1.9
3.3
15
33

%

36

%

66

%

0.5
0.1
2017/18
BUDUCNOST
ADRIATIC LEAGUE
12.5
4.3
5.3
30
51

%

30

%

63

%

2.5
0.2
2016/17
MONTENEGRO
EUROBASKET
4.7
1.7
4.3
26
33

%

-
28

%

0.7
-
2016/17
BUDUCNOST
ADRIATIC LEAGUE
14.3
4.8
5.0
34
47

%

27

%

60

%

2.6
-
2015/16
BUDUCNOST
ADRIATIC LEAGUE
9.1
4.0
4.6
34
39

%

26

%

53

%

2.4
0.2
2015/16
MONTENEGRO
U20B EUROPEAN CHAMPIONSHIP
11.7
5.2
5.3
33
38

%

22

%

73

%

2.3
-
2014/15
MONTENEGRO
U20B EUROPEAN CHAMPIONSHIP
11.9
7.0
4.0
35
34

%

21

%

46

%

3.1
-
2013/14
MONTENEGRO
U18B EUROPEAN CHAMPIONSHIP
13.4
6.4
3.4
36
44

%

19

%

52

%

4.6
-
Achievements/Awards
Best passer U20B European Championship 2016
Adriatic League Champion 2015/16
Montenegrin League Champion - 2010/11, 2011/12, 2012/13, 2013/14, 2014/15, 2015/16, 2016/17
Montenegrin Cup Champion - 2011/12, 2012/13, 2013/14, 2015/16, 2016/17
Third Best Passer | U20B European Championship 2015