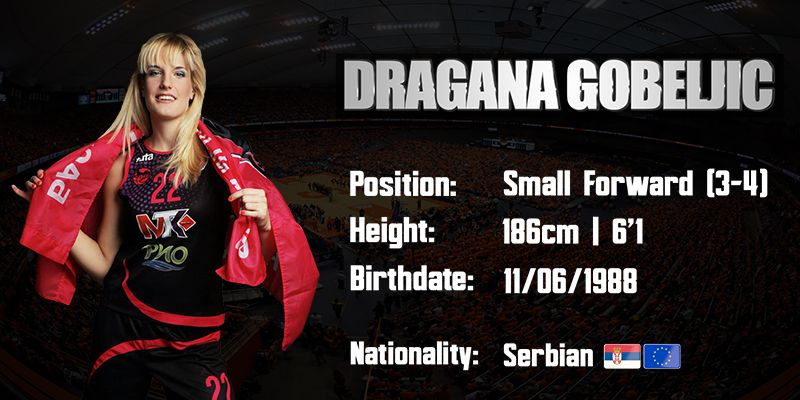 Background/Bio
Dragana Gobeljic played for different serbian teams like Vojvodina and Proleter during the first part of her career.
In December 2011, Dragana signed in Romania with Targu Mures and she averaged 12.7 points and 7.4 rebounds per game.
After a 2012/13 season in which she played in Romania, Russia (Rostov) and Serbia (Jagodina), Dragana Gobeljic signed with Radnicki and averaged 16.7 points and 4.8 rebounds per game in the first part of the season to later move to Greece and averaged 14.4 points and 6.1 rebounds per game with Anagenisi Neou Rysiou.
Dragana signed in Bulgaria with Neftochimic in the 2014/15 season and she averaged 12.2 points and 5.5 rebounds per game, becoming Bulgarian Cup Champion and League Finalist.
In the 2015/16 season, Dragana Gobeljic signed in Czech Republic with Slovanka and she averaged excellent 14.5 points and 6 rebounds per game.
Dragana Gobeljic signed in Germany with Hannover during the 2016/17 season and she averaged 8.9 points and 4.2 rebounds in 22 minutes per game.
In the 2017/18 season, Dragana Gobeljic re-signed with Hannover.
Scouting Report
Dragana Gobeljic is a 1.86m Serbian international wing born in 1988 who has experience in multiple countries like Russia, Czech Republic, Romania, Greece, Germany, Bulgaria and Serbia.
Dragana Gobeljic is a versatile player with a good all-around game.
Highlights
Career Stats
Season
Team
League
PPG
RPG
APG
MIN
2FGP
3FGP
FT
ST
BL
2018/19
HANNOVER
GERMANY-D1
7.8
3.1
0.9
15
46

%

37

%

64

%

0.5
0.2
2017/18
HANNOVER
GERMANY-D1
7.0
3.0
0.5
17
41

%

27

%

90

%

0.7
0.2
2017/18
HANNOVER
GERMANY-D1
8.0
3.3
0.5
18
42

%

30

%

87

%

0.8
-
2016/17
HANNOVER
GERMANY-D1
8.9
4.2
1.0
22
50

%

27

%

71

%

0.9
0.2
2015/16
SLOVANKA
CZECH-D1
14.5
6.0
1.2
31
53

%

38

%

91

%

1.7
0.2
2014/15
LUKOIL
BULGARIA-D1
12.2
5.5
0.9
25
52

%

43

%

87

%

1.0
0.1
2013/14
ANAGENISI
GREECE-D1
14.4
6.1
1.4
31
55

%

43

%

94

%

1.9
0.1
2013/14
RACNICKI
SERBIA-D1
16.7
4.8
2.5
33
51

%

27

%

84

%

2.1
0.4
Achievements/Awards
Finalist Bulgarian League 2014/15
Bulgarian Cup Champion 2014/15
Romanian League Semifinalist 2011/12
Serbian Cup Finalist 2006/07
Silver Medal | U18 European Championship 2007
Adriatic League Finalist 2005/06