SIGI KOIZAR excels against Györ with 20 points, 10 rebounds and +31 efficiency
17 DEC 2017
Autrian point guard Sigi Koizar had 20 points, 10 rebounds and +31 efficiency with ZTE NKK in the loss against Uni Györ (62-73) and continues to impress in her first professional season in Europe after an stellar career playing for Maine in the United States.
After 10 Hungarian League games, Sigi Koizar averages 14.1 points, 5.6 rebounds, 2.8 assists, 2.6 steals and +20.3 efficiency per game, being a crucial piece in her team´s successful season (6 wins and 4 losses)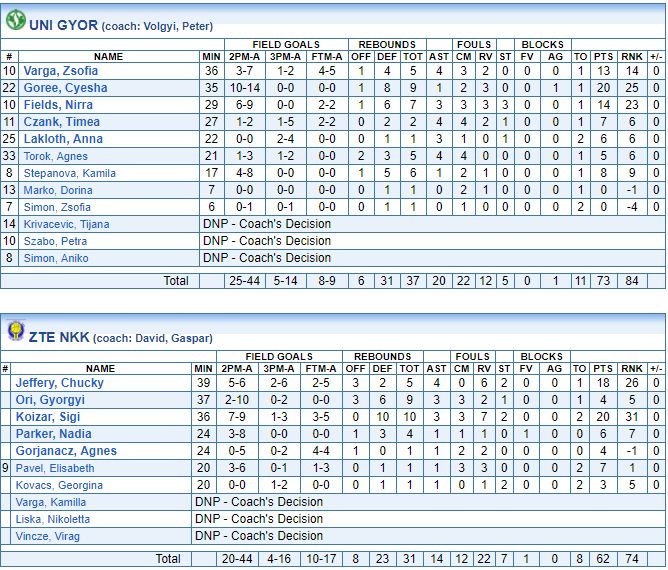 CAREER
Sigi started playing basketball in Austria and being a really young player, she moved to the United States to study and play for Stearns High School, where she averaged 23.8 points, 10.8 rebounds, 4.7 assists and 3.2 steals per game in the 2011/12 season.
Sigi Koizar started her college career during the 2013/14 season, playing for Maine and averaging 4.9 points, 3.8 rebounds and 2.5 assists in 20 minutes per game.
In the 2014 summer, Sigi Koizar played the 2014 European Championship for Small Countries with the Austrian National Team and she averaged 15.4 points, 5.6 rebounds and 6 assists in 23 minutes per game, remaining undefeated and shining against Iceland with 32 points and 10 rebounds.
Sigi Koizar kept improving and already in the 2014/15 season she had her first "big" year at Maine, averaging 14.3 points, 4.2 rebounds and 2.7 assists per game and being named in the AEC 1st Team.
In the 2015 summer, Sigi played the U20B European Championship and she performed well, averaging 12 points, 8.8 rebounds and 2.8 assists per game.
Sigi Koizar had a fantastic 2015/16 season with Maine, being one of the best scorers in the country with 17.7 points, 4.1 rebounds and 3.8 assists per game with excellent 43.4% from 3 point range. In her junior year, Sigi was named again in the AEC 1st Team also she also reached the AEC Final.
In the 2016/17 season, Sigi Koizar had a great last year and she averaged 14.1 points, 4.5 rebounds and 2.4 assists per game, being named for the third time in the AEC 1st team and reaching the AEC Final one more time.
During her 4 years at Maine, Sigi Koizar was also a very good student and she was named in the AEC All-Academist First Team in 2015,2016 and 2017.
In the 2017/18 season, Sigi Koizar started her professional career and signed in Hungary with ZTE NKK.